Pella Certified Contractor
What does this mean?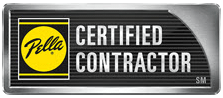 We are your source for innovative Pella windows and doors.
Our goal is to ensure that you are completely satisfied throughout your project.
We are professionally trained by Pella so you know you are getting the knowledge and experience you can count on from product selection to installation.
We are part of an elite group of independent contractors that are certified and selected by Pella.
A PCC is a great choice for any type of home improvement project – from remodeling to window and door replacement.