Hydrotherapy & Health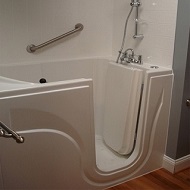 Therapeutic benefits that can be realized by hydromassage.
Hydrotherapy is based on the age old wisdom of the Greeks, Romans, and many Asian countries to treat a variety of conditions including overall health. Water, heat, and air are three of nature's most powerful agents that in combination can improve overall health, wellbeing and ease away aches and pains.
It's a natural therapy, safely used by hospitals, physiotherapists and health spas around the world. Consult with your physician to see if it can benefit you. There are several forms of hydrotherapy. The focus of this page is the therapeutic benefits that can be realized by hydromassage and hydrothermal therapy through use of AquaSpa walk-in bathtubs.