Removing Expense, Retaining Allure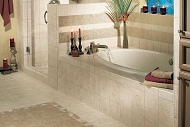 The look of natural marbles and stones for your bathroom floor without added cost.
We at Mohawk strive to produce attractive, affordable solutions for your bathroom surface needs and our Glazed Ceramic Tile succeeds in doing just that. Found in nearly all of our tile collections, styles such as Sierra and Ceramic Willow Glen achieve the look of natural marbles and stones for your floor without added cost.
In an age–old creation process, clays are mined, ground to fine powders, blended with water, pressed together to form the body of the tile and finally dried to reduce moisture content. After being coated with glass–forming minerals and stained with a colored glaze, the tile is fired in kilns at approximately 2000° Fahrenheit to form the finished product.
Not Just for Your Floor, Ceramic, Glazed, and Porcelain Tiles Provide a Whole New Look
Offering a broad array of products, Mohawk Ceramic Tile comes in all major product types including floor tile, wall tile, mosaics and decorative tiles. From glazed floor to Colorbody™ to porcelain tile, Mohawk has a product to suit virtually any use throughout the home.
Since color and design are so important in creating the right look, Mohawk has taken special care to create products that offer the right blend of colors, sizes, textures and finishes to express your individuality. And for the do-it-yourself handyman, Mohawk provides the step-by-step guide to installing ceramic yourself. And there's plenty of handy tips to care for your tile so it will last a lifetime bringing beauty to your home.
No matter your budget or taste, whether designing a Mediterranean villa or a contemporary loft, Mohawk ceramic tile offers an incredible wealth of design options that work together to help create your own inspired, amazing space.